Solutions by GPS-Trace are diverse and cater to the interests and needs of a wide range of clients and users.
This includes individuals who use the applications to track their own cars, bicycles, boats, as well as their pets or domestic animals. In some cases, our applications also make life easier for people caring for elderly relatives or children.
Furthermore, we offer solutions specifically designed for businesses engaged in selling trackers and tracking systems, as well as monitoring large fleets such as taxi services, delivery departments, car rentals, farms, and more.
Currently, the Ruhavik application, with a paid subscription allowing tracking of more than one unit, is used by around 25,000 users. Among them, over 2,000 trackers are used in accounts with a premium30 subscription, nearly 3,000 with a premium20 subscription, and almost 6,000 with a premium10 subscription. Some business users have also migrated and are now using the recently introduced Forguard application.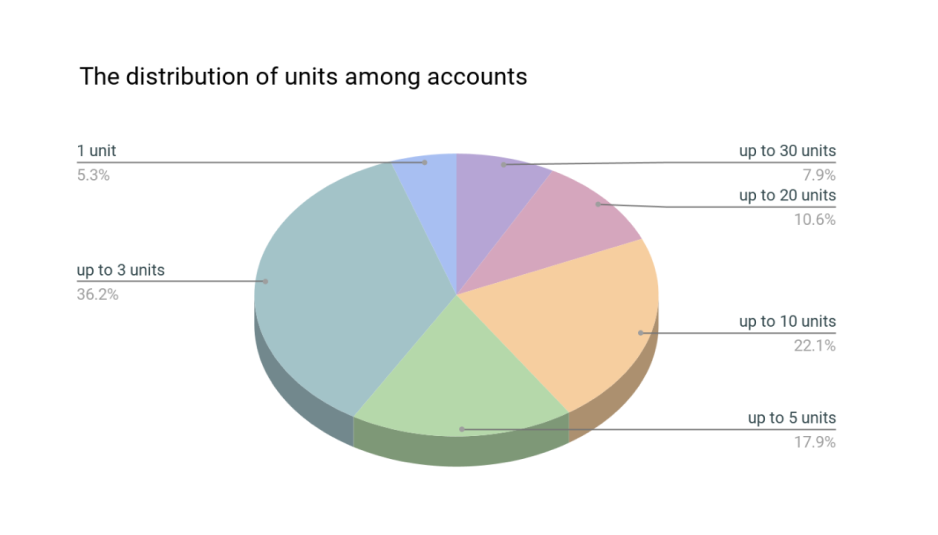 Today, we want to take a closer look at our business solutions that provide opportunities for tracking the fleets of partners and users.
---
First, there's the Partner Panel, a unique tool for businesses that allows our partners to easily create and manage their own accounts or accounts for their clients. They can also create and configure units in these accounts and set up trackers. Through the Partner Panel, partners can use any of our solutions, whether it's Ruhavik, Petovik, or Forguard. All specialists using the Partner Panel also have the opportunity to appear on our partner map.
Ruhavik is an application oriented towards personal monitoring and is primarily offered by partners involved in tracker installations as an additional feature of their services. As a result, clients receive not only an installed and configured tracker but also an intuitive, multifunctional application that allows real-time tracking, setting up security zones, and accessing statistics, among other features. With a paid subscription, Ruhavik users can monitor up to 30 units in a single account.
Forguard is an application specifically created for distribution among our partners providing tracking services based on GPS-Trace solutions. In addition to functionality similar to Ruhavik, this application offers some additional features for partners and users that can be useful in a business environment:
Quick switching between accounts.

Setting up actions

based on events (entry/exit of an unit to/from geofences, trip starts or ends and an alarm notification).

Forguard users can seek local support from their partner for prompt assistance. In turn, the partner can help create, modify accounts and units, as well as set up trackers to work in our system.

Partners also reach out to GPS-Trace for technical support.
---
Quick switching between Forguard accounts
Quick switching between Forguard accounts allows users to easily monitor multiple accounts simultaneously while maintaining clarity and convenience in observing each unit. The distribution of units among accounts is decided independently by the business, whether it's geographical distribution, different business purposes, or division among administrators responsible for managing and servicing specific units.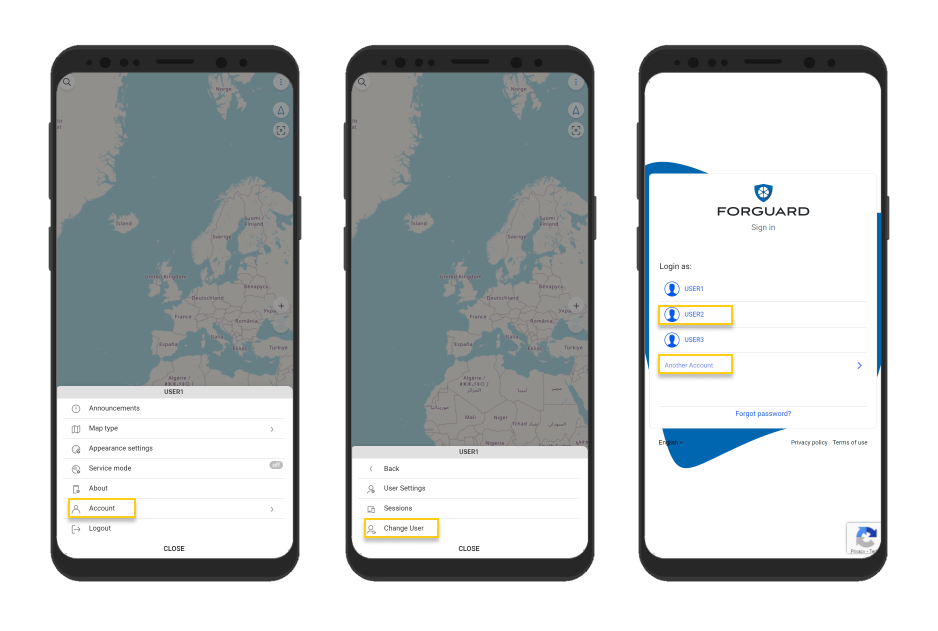 To switch between accounts, click on the three vertical dots in the upper right corner of the application window, go to the "Account" tab, and select "Change User." The list of available users will display the last three accounts you logged into, from which you can choose the one you need at that moment.
---
The GPS-Trace system offers a variety of solutions for personal and business tracking. Whether you are an individual looking to monitor your assets or a business aiming to track a fleet, GPS-Trace provides the tools and applications to effectively meet your needs. With a range of subscription options and features, users can rely on our solutions to ensure safety, reliability, and efficient management.