GPS-Trace applications are developed, among other things, to ensure the safety of property and the users themselves (cars, motorcycles, scooters, scooters, pets, elderly relatives, children, etc.) using satellite tracking technology.
To understand the importance of this task, we are also guided by available statistics. For example, if we take just one aspect of this problem, auto theft, there were more than 1 million reported stolen vehicles in the United States in 2022. There were 505,100 car thefts in the EU in 2019.
Moreover, the detection rate of such crimes depends on the time and how quickly the theft was discovered. So If reported stolen in the first 24 hours, passenger vehicles had a 34 percent same-day recovery rate in 2022.
And today we will talk about the capabilities of our applications, which allow you to instantly track the entry and exit of a user unit from predefined boundaries.
---
🌐

Security Mode
Security Mode is a feature that allows users to instantly create a protective zone around their asset with a 100-meter radius. As soon as the unit crosses the specified boundaries, the user will receive a notification.
To activate Security Mode, simply press the corresponding button in the Quick Access Toolbar.
When Security Mode is active, you will receive alerts if your asset leaves the specified zone, and the corresponding icon in the Quick Access Toolbar will turn red.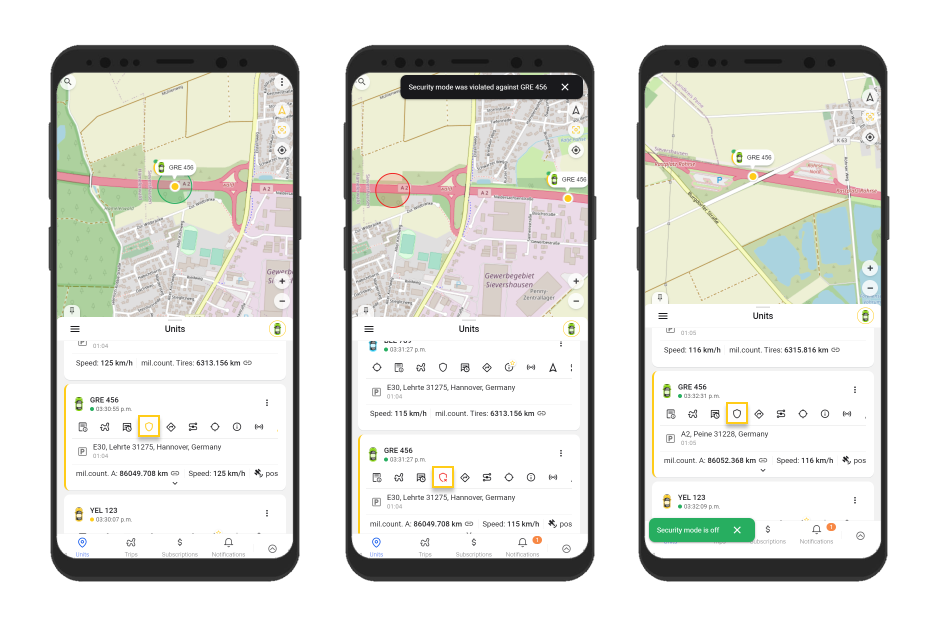 📍Don't forget to disable Security Mode by pressing the corresponding icon after receiving a notification or when it's no longer needed.
---
🌐

Geofences
A geofence is a user-defined zone on the map. If it's essential for you to know when your asset enters, stays within, or exits a specific area, this feature is tailored for you. You can receive notifications for entries and exits from these zones.
Furthermore, in the Commands Panel of the Forguard application, you can configure event actions (such as engine locking, door locking, and other commands compatible with your GPS tracker) for various events, including entry and exit from geofences. If such a setting is made, then in the event of a car theft, for example, when leaving a geofence, it will stop driving, because The car's engine will be automatically locked, which will prevent it from being stolen.
Geofences can take the shape of a circle, rectangle, or polygon (available with a premium subscription). Also, when creating a geofence, select its color on the map, name, description and size.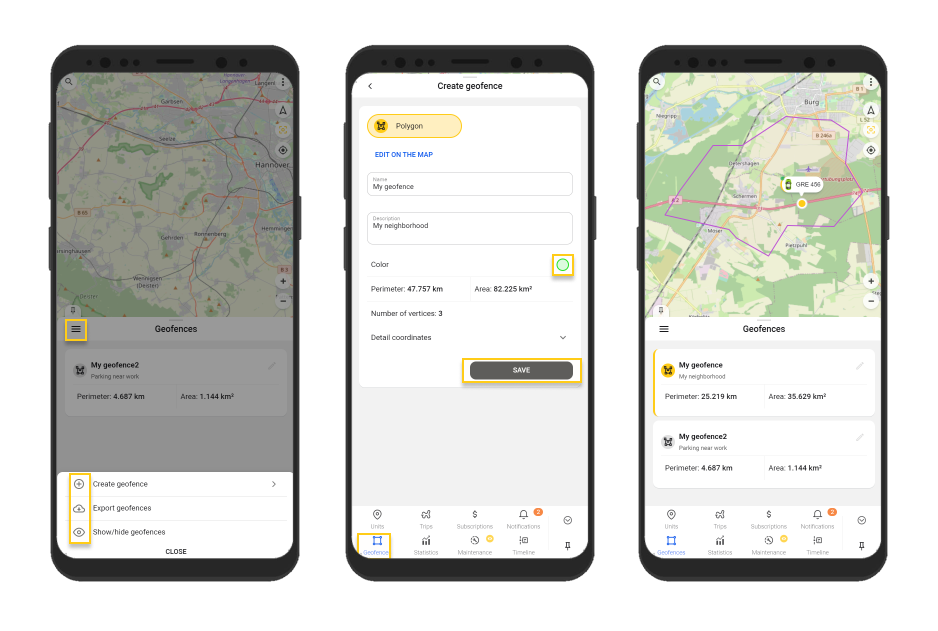 Here are the limitations on the number of possible geofences:
Up to 2 with a free subscription

Up to 15 in Ruhavik with a premium subscription

Up to 50 in Forguard
To manage geofences, simply navigate to the corresponding tab within the application, where you can:
Create geofences

Show/hide geofences (you can hide them from the map but continue to receive related notifications)

Export geofences in various formats (.kml/kmz or .wlp)
---
🌐

Entry and Exit Notifications from Geofences and Security Mode Alerts
Notifications such as push-notifications regarding the crossing of boundaries, whether in a security zone or a geofence, are accessible to all users.
Alerts about Security Mode violations are not required in additional settings. In the case of a geofence, notifications must be configured in the Settings - Notifications section. In this case, the user can choose to receive notifications only at the entrance, only at the exit to/from geofences, or on both sides.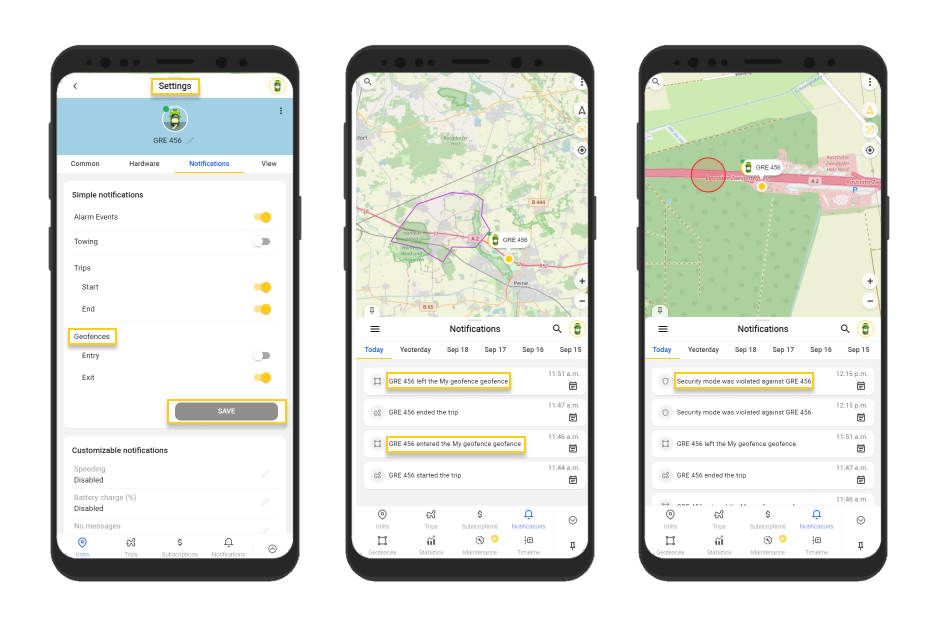 All notifications can be received as push notifications.
Also available for users with a paid paid subscription:
---
Our applications consistently prioritize your safety, offering powerful tools to ensure the security of your assets.