GPS-Trace specializes both in working with ordinary users and in building a network of partners. What is it for?
Partners can provide invaluable assistance to end users in choosing a device for GPS monitoring of a vehicle or pet, as well as installing and configuring our application to work with the selected tracker. At the same time, partners themselves also benefit from interaction with GPS-Trace, which we will discuss below.
Just a year ago we created the GPS-Trace partner map on our website, and now it already includes more than 120 partners in more than 50 countries around the world. This map allows users to easily seek help from professionals who work directly with trackers, and partners become more recognizable among users and potential clients.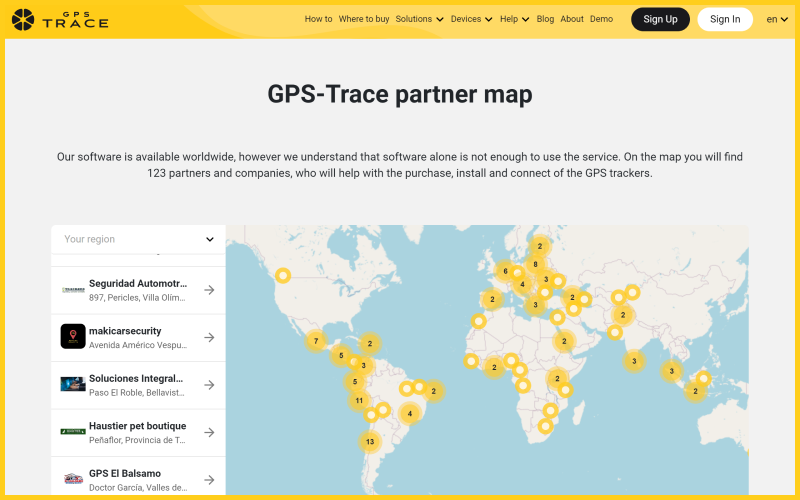 In addition, all our partners get access to the Partner Panel - a unique platform through which they can most quickly and fully provide services for creating accounts in Ruhavik and Petovik applications and setting up trackers to their clients, and also have the opportunity to use the unique and long experience of our team (more than 20 years) in the field of monitoring.
Today, we are thrilled to present to you our current TOP 10 GPS-Trace partners. To compile this list, we used the criterion: the largest number of users connected by the partner to our applications.
So, TOP-10 partners of GPS-Trace:
GPS El Balsamo, Chile, https://www.instagram.com/rfrastreamento/
Unitrack, Ukraine, https://unitrack.com.ua/
Seguridad Tecnologica, Chile, https://www.facebook.com/seguridadtecnologicaspa
Dasauto, Morocco, https://www.dasauto.ma/
VGA.LT, Lithuania, www.vga.lt
RF RASTREAMENTO, Brazil, https://rastreamentofacil5.wixsite.com/rastreamento
CarCops OÜ, Estonia, https://www.carcops.ee/
GPS IRAQ, Iraq
Smart systems, Nicaragua, https://smart-systems-csjp.web.app/main
HELIOS GPS, Peru
This list includes both fairly large businesses and small startups. And you always have a choice: download the Ruhavik or Petovik application and install the tracker on the vehicle yourself, or ask our partners for help in selecting the device and setting it up. Or even become our partner by organizing or developing your business.
And the GPS-Trace team always stays by your side!